The most people love own house, hope to own home where only belong to family. Actually there are more knowledge and expertise during house building period. Certainly, this topic is not for apartment, however it is for private home building such as town house, terrace house or villa. Well, perhaps you may think about that you pay for the private home builder or company to help you. But what exactly exterior wall building material do these companies use for your house? I am sure the most of people cannot know it completely. So whether you worried about the quality of these exterior building materials they adopt? Whether you think about to save your money during this huge project of home building? Or whether you think about the function of these materials which will be applied to your home exterior wall? I trust that when you read till this, you will find so many issues to surge into your brain, and you will lose confidence and resolution to build a firmed, artistic and comfortable house. But no worry about it, you just treat this article seriously and learn something about building materials. I know the different situation will be presented from you when you try to contact a private home building company. Knowing why? You have grasped the tricks and expertise for exterior building materials and confidently to negotiate the price and what materials to choose.
As definition of exterior wall building material, the building materials are any materials used for architectural purposes. Many naturally occurring materials such as sand, wood, clay, rock, and even branches and leaves are used to build buildings, meanwhile, many man-made products are in use besides naturally occurring materials. So you should know the basics and fundamental about building materials, namely it is for well cover without leakage of rain or wind and it is also to keep us warm. Nowadays, there is another important factor to be thought about as Aesthetic. So what kinds of building materials used in construction?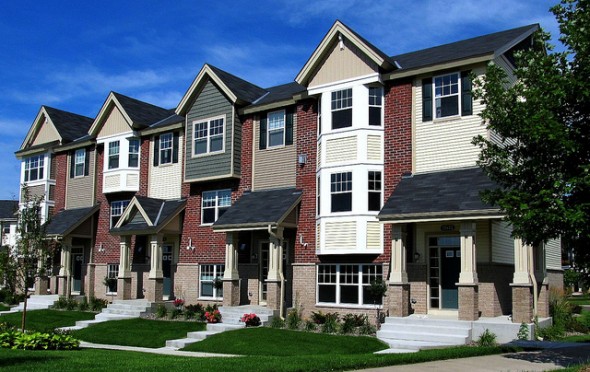 For natural building materials, we may consider to classify into approximate 6 of types such as Wood, Mud, Clay, Rock, Ice and Thatch and so on.
Wood
Wood is a product of trees, usually be processed and finished by related fibrous plants. Exactly for construction purpose, plants will cut or press the wood into lumber or timber (eg. Planks, boards and similar materials). these common and popular building materials will be used in building as the premise in most of climates.
Mud and Clay
Mud or saying soil and clay are good function to keep heat namely thermal mass. So it may offer warn environment to the people live in it and the temperatures will not decrease easily and will keep it as a constant level. Clay's function is such as stone to collect heat or cold then release it over a period of time.
Rock
In the history, Rock has existed for a long long period since ancient time till now. Rock is a very dense material, so it also provides a lot of protection for the people. The people in ancient time often resided into Stone Cave avoiding to be hunted by other predators.
You should know that the stone building can be seen and visited in a lot of major cities such as the Aztec Pyramids and Egypt's Pyramids. It represents the civilizations of age. Also it is really artistic to use nowadays.
Thatch
This is the one of the oldest of material for building as well known around the world. Certainly, the most of tribes in Africa or remote areas in the countries still use thatch or grass for home. Straw bale now is rising in popularity as natural building materials and good insulator for wide application.
Certainly, Synthetic materials are also popular to used for house building. According to the types, we may know as below,
Metal
Normally metal often are used for framework. A good house is based on structural framework no matter skyscrapers or villa, townhouse. There are many types of metals used in construction. Steel is a metal alloy that main component is iron and is the usual choice for metal construction materials. Its features are strong, flexible and if you choose stainless steel, then corrosion will go away from destroying the framework. It is really for a longevity application.
Concrete
This building material is a composite material made from the combination of a binder and composite. It is really firmed and very popular used for the most of family. As its cost is not high and it is very firmed after it is dried, we like to choose this material to build the house, in meantime, we may also consider some other material to match  with it so that show the art.
Glass
Glass is another main materials for nowadays house building. Not only it is easy to clean, and other advantages such as easily was lighted by a dozen windows wall on the roof of house.